Sunflower Harvester with trays
GB Model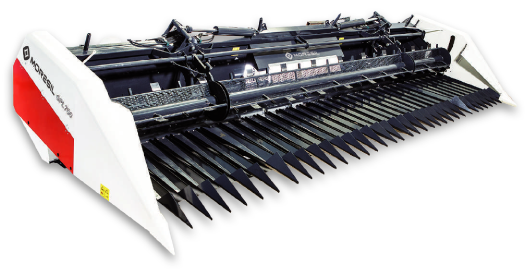 Capable of harvesting at different sowing distances and crop heights, adapting to any required harvesting conditions.
Capable of harvesting at different sowing distances and crop heights, adapting to any required harvesting conditions. 
There is a folding version available featuring our patented sickle locking system, with or without chopper, height indicator and stalk crusher.
The gearboxes are hermetically sealed and self-lubricating, which leads to a considerable reduction in maintenance.
Sunflower Harvester with trays
GB Model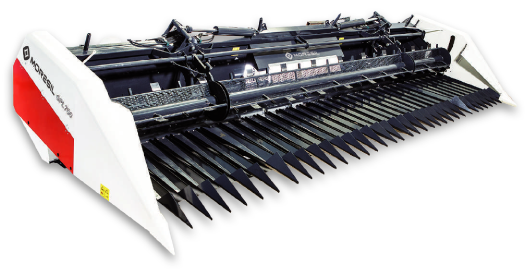 Sunflower harvest for experts
Thanks to our experience, we can offer our clients excellent harvesting and chopping quality for professional results.
Sunflower Harvester with trays GB Model
This header can be adapted to any type of harvester. Available in multiple lenghts from 5 mts in increments of 0.5 m, although you can make any measure on request.
Hydraulic reel raising and lowering it from the combine. Wide-reinforced special trays to minimize crop losses.
Adjusting system to the combine interchangeable and adjustable to change the tilt of work, and adaptable to any combine.
It is ready to put the chopper (optional) in the future if it doesn't have initially.
Color of the side of the header same as the color of the combine.
Knife Box
It has a completely rectilinear movement and is very silent, due to the fact that its components are always rotating. With this system it is possible to cut at high speed.
Opening sign
The opening sign allows to know the height of the stalk chopper from the cabin of the driver.
Stubble-crusher
The stubble-crusher bend the stubble to protect the combine's tyres and ensure it lies at a minimal height above the ground.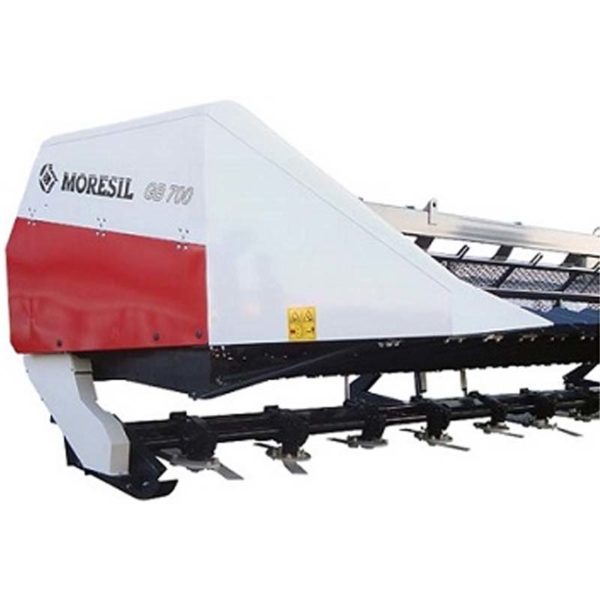 Stalk Chopper
Height-adjustable hydraulic chopper, allowing you to cut a low stubble although the stems are long.
Gears of chopper designed specifically for this work with reinforced bushings to achieve total reliability.
Reverse rotation system to achieve greater effectiveness and distribution of chopped straw.
Transmission bar removable in sections for easy maintenance.
Chopper-blades are reversible and highly durable. After the work, remains a perfect and uniform stubble.
| MODEL | TOTAL WIDTH (mm) | WORKING WIDTH (mm) | WEIGHT(kg) |
| --- | --- | --- | --- |
| GB-500 | 5,60 | 5,10 | 1264 |
| GB-550 | 6,10 | 5,60 | 1400 |
| GB-600 | 6,60 | 6,10 | 1536 |
| GB-650 | 7,10 | 6,60 | 1672 |
| GB-700 | 7,60 | 7,10 | 1808 |
| GB-750 | 8,10 | 7,60 | 1944 |
| GB-800 | 8,60 | 8,10 | 2402 |
| GB-850 | 9,10 | 8,60 | 2484 |
| GB-900 | 9,60 | 9,10 | 2566 |
| GB-1000 | 10,60 | 10,10 | 2650 |
Folding Sunflower Harvester GB Model
This folding sunflower harvester has all the features of the fixed model adding the advantages of fast transfers as it does not need trailer and the ability to pass through narrow passages.
The folding system is done from the cab of the combine without disconnecting the PTO.
We highlight the coupling of the cutting knife. This patented system by Moresil is highly reliable, avoiding mismatches prevent further displacement connection.
The folding model we obtain the same advantages as in the fixed model in terms of straight cutting, high speed, without reducing its strength at any time.
This model has the option of stalk chopper hydraulically height adjustable.
Made in two versions depending on the working width, 6.5 and 7 meters.