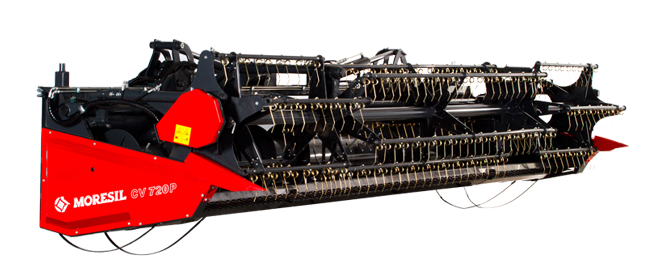 The 3-part folding header provides greater space to offer greater visibility.
It reduces travelling time while being as productive as a fixed cut system, but with a simple and fast folding system.
The distance between the neck and the worm drive has been reduced, which greatly improves feeding compared to track system headers.
Manufactured with high quality components that reduce necessary maintenance and offer greater durability.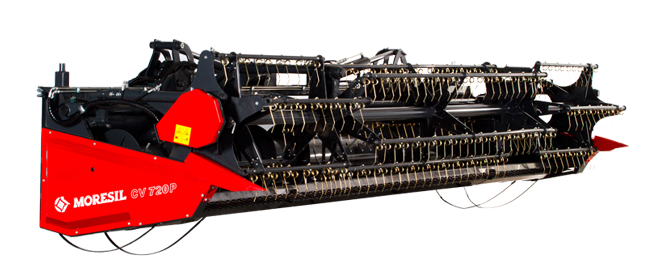 High-performance folding header
Negotiate narrow passages successfully with our 3-part folding system, which offers greater visibility, and a shorter worm drive to neck distance for improved feeding.
The Folding Grain Header CV Model
The Moresil folding grain header is ideal for saving time transfers and narrow passages without sacrificing productivity of a fixed cut. The folding operation is performed in a fast way..
For this header coupling systems for endless, reel, the cutting blade and the transmission that adjust automatically have been developed.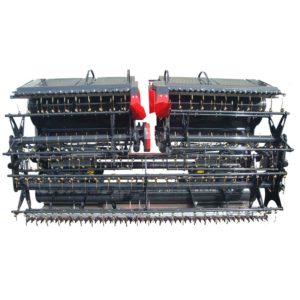 Background of endless
Background of endless screw is made of stainless steel for better flow of material.
Safety lock to prevent incidents during work.
The state-of-the-art Schumacher cutting system is composed by roller guides that reduce friction and special hardened guards resulting in less power needed to cut the material.
Cutting knife System
The system of the cutting knife coupler is similar to the one used for years in sunflower folding headers, patented and highly reliable.
The cut is made across the widthof the header without any interruption
3-part folding system for better feeding
Minimum distance between the auger and throatof combine for better feeding regardless of the condition of the product.
The reel has a large diameter for harvesting in all conditions and hydraulically adjustable in speed by the driver.
Big diameter auger [610 mm] with retractable fingers along its length.
Possibility to vary the angle of inclination of the platform to allow better allow the penetration of products like soy.
Ground sensors to copy the terrain and accommodate the reaper to it.
Transmission is performed by PTO only on the left side having an automatic coupling which makes easy the folding operation.
The compact folding system allows a good visibility for the driver of the combine. High security is also achieved in both road and roughest terrain transfers.
| MODEL | WORKING WIDTH | TRANSPORT WIDTH |
| --- | --- | --- |
| CV 550P | 5,50 m | 3,50 m |
| CV 620 P | 6,20 m | 3,50 m |
| CV 720 P | 7,20 m | 4,00 m |