Corn head
MR-800
Our upper chain system (optional) achieves continuous feeding even when the corn is down.
Its layout provides greater precision and maximum protection with double independent clutch.
Its finish and structure optimise corn harvesting and stripping.
Thanks to our experience with different manufacturers, it can be adapted to any combine harvester.
Corn head
MR-800
Ensure harvesting success
Combining our experience with the most advanced manufacturing technology, we offer you a header designed by and for professionals.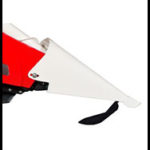 More than 60 years

in the most demanding fields worldwide
The corn head MR-800 model has multiple options for configuration according to the different needs of each client and market. This can be manufactured at any distance between rows from 50 cm, with upper chain on hoods and side augers to harvest in extreme conditions with all the stalks blown down, stalk chopper, metal or plastic hoods, interchangeable rollers with opposing or alternate blades, chain drive in self-lubricated sealed box or gear groups, fixed or folding frame, etc.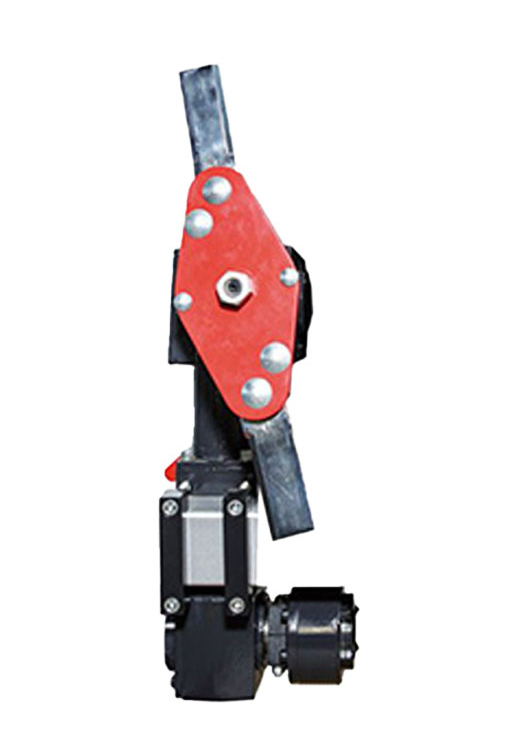 Stalk chopper
This design of chopper in the MR 800 Moresil corn header achieves a low requirement of power from the combine.
The stalk chopper is located in an advanced position under the harvesting rolls which allows it to chop the lants since the beginning of harvesting, leaving the stubble uniformly short.
The stalk chopper is equipped with an individual clutch, with which you can achieve a maximum overload protection and guarantees its reliability under all harvesting conditions.
It has a lever on each gearbox to connect or disconnect the stalk chopper at operators convenience. The blades are reversible.
Harvesting rolls
Gearbox-proven reliability with hardened steel gears and bathed in specific lubricant for gear, incorporates a clutch for protection in case of overload, which can be regulated independently from the clutch of the chopper.
The harvesting rollers are fitted with 6 replaceable blades of special anti-wearing material. Also it is offered optionally rolls with blades opposite to each other. They have a lubrication system on the end that doesn't require maintenance.
Feeding-chains have a closed ring and they have a special backstop pusher. A new design tensor maintains the correct strain and also allows to change the chains with minimal effort.
Harvesting plates are rounded edge, damage to the ear, made of very hard material. Available hydraulic system for immediate adjustment from cabin.
Reinforced chain drive, adjusted with a self-adjustable tensor in a sealed case bathed in lubricant which ensures a long lasting operation. This system ensures precise adjustment of the revs for each harvester. The headers can be optionally equipped with a group of gears.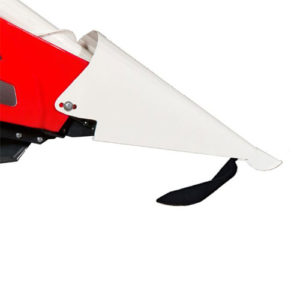 Hydraulic lateral aids (Polyethilene)
Hydraulic or by chain lateral aids (Metal)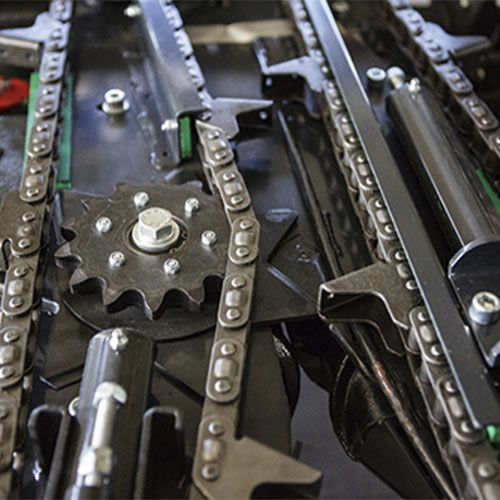 Upper Feeding Chain
Optional element to harvest corn in extreme conditions, when the plants are laying on the ground can be made easily, getting a continuous supply and high crop yields with minimal loss of grain.
Different number of rows and distance between them are available in folding model.
It is a folding system quickly and easily carried out from the combine.
You get an efficient folding for easy visibility from the cockpit.
Our folding model allows to reduce time and cost of travel from one location to another.