The corn head is a specific equipment for the harvesting of this grain, different from the generic cereal headers. In Moresil we are specialists in the manufacture of agricultural machinery and, specifically, in the manufacture of this type of headers, taking into account that we have been manufacturing headers for the harvesting of this grain since 1967, so we have a more than proven experience in its design and production, so we want to show you how this type of harvester head works in particular.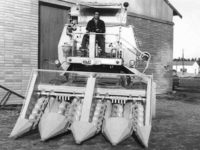 1967 | Manufacture of the first corn head for cereal harvester.
The corn head, which usually works very close to the ground, extracts only the cob from the corn plant through a system of rollers with its rotating movement. Thanks to this, we manage to prevent a lot of leaf mass from the corn bush from entering the harvester, since all that leaf mass would contaminate the product and, in addition, it is very aggressive inside the machine, so if the roller collection system of the corn head does not fulfill its function it could prevent the correct operation of the harvester, which is why at Moresil we place special emphasis on perfecting this essential system for corn harvesting.
But what happens to the bush left over after harvesting the corn cob?
It can remain on the ground, in the case of not installing a bush chopper in the header, but if we decide to install the chopper we will facilitate the incorporation of organic matter to the soil, favoring at the same time the post-harvest work, avoiding at the same time the development of pests and diseases.
In this way, once the corn harvester head extracts the cob with the rollers, the chains will transport the corn to an auger system that will finally feed directly to the combine harvester, where various separation and threshing mechanisms of the combine harvester come into play as the final element of the harvesting process.
If you want to know more about how corn heads work, we invite you to watch the following video: