Super-intensive Olive harvester
VS+
The VS+ harvester is able to adapt to different tree and trunk sizes in super-intensive plantations thanks to its large-sized tree-beating tunnel.
Our advanced sensor system provides highly-accurate machine steering and height control, all managed from the cabin by means of a control panel and cameras.
Independent machine with continuous unloading capacity to better exploit the planting area and facilitate the amortisation of the tractor, all this combined with a low maintenance cost.
The VS+ harvester can be complemented with auxiliary hoppers and GPS with assistance system and remote software updates.
Super-intensive Olive harvester
VS+
Innovation, higher capacity and high yield
The VS+ harvester boasts a higher harvesting rate due to the large size of the tree-beating tunnel which, together with the machine's innovative systems for precise steering and height control, ensures greater profitability for your plantation.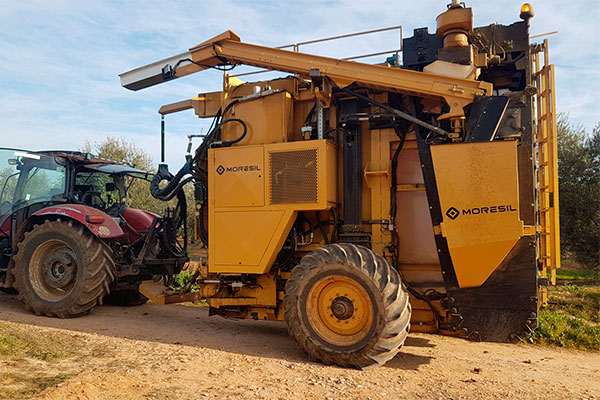 Super-intensive olive harvester
Machine for harvestingsuper-intensive crops. .
Large-sized thinning tunnel for harvesting .super-intensive olives of different sizes
Improves the amortisation of tractors, as it can be used during the rest of the year for other tasks.
Better use of the plantation surface area of the farm, as it does not need dividing lanes for unloading the hoppers
Larger fruit collection area to minimise the amount of fruit falling to the ground.
Four ground tracking probes to improve adaptation and proximity to the ground.
Six direction-following probes for quick adaptation to the direction of travel.
Precise guidance thanks to the combination of front steering by draft and rear steering by steerable wheels..
De-stemmer before lifting, which eliminates annoying blockages caused by carrying sticks or branches up the conveyor belts to the discharge.
Double suction system combined with de-stemmer for excellent cleaning of the fruit.
Low maintenance cost.
It has an unloading belt and two auxiliary hoppers to facilitate operation in the event of different circumstances that may arise during harvesting.
Control panel installed in the tractor cab with on-board computer.
Equipped with cameras to assist driving and control the harvesting process.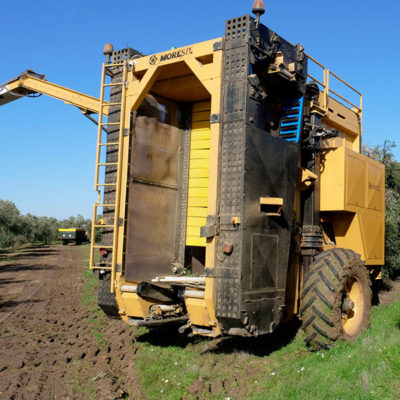 | | |
| --- | --- |
| Shakers | 25 pairs |
| Shaking height from the ground | 3,6 mts |
| Tractor power required | 115 CV |
| To turn around | 6,5m without manoeuvring |
| Optional hoppers | 2 |