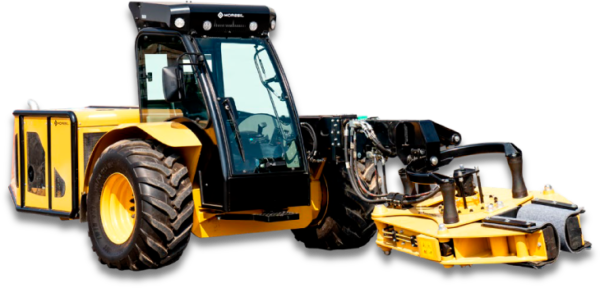 Olive tree shaker machine
Cabin with hinged door, heating, movement control through two joysticks, and vibration damping systems.
Offers the agility required to deal quickly and precisely with any circumstance. High-end technology at your service.
Incorporates the 120 HP Deutz engine together with sturdy Poclain wheel engines for working even in the most adverse conditions.
Thanks to the electronic control system that uses only the power required for each operation, the standard consumption is reduced by approximately 30%.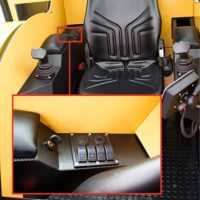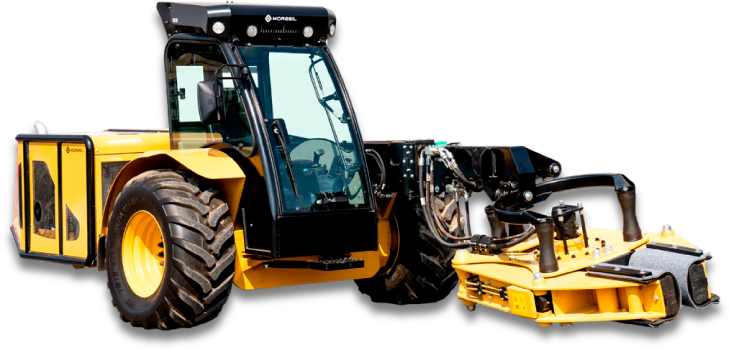 Strength, agility, and precision at your service
Incorporates an electronically operated 120 HP Deutz engine that reduces consumption by 30%, Poclain wheel engines, and independent cabin with great visibility.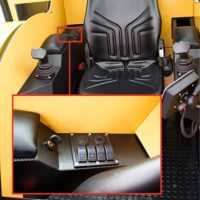 Buggy BM300
The three-wheeled Moresil BM 300 Buggy is fitted with state-of-the-art technology that enables it to electronically control the movement and vibration of our olive, nuts and fruit trees (almond, nuts, pistachio…), making it possible to choose the most suitable programme for each type of crop.
It is also possible to control the power unit which, thanks to its efficient programme, can provide significant fuel savings (more than 30%)
.
Ergonomics
Large closed cab with great visibility, hinged door, heating and air conditioning (optional).
Control of all movements through 2 joysticks.
Powerful lighting with LED headlights.
Rear view camera, visible from the control screen (optional).
Independent cab with vibration damping and glass for soundproofing.
12 V cigarette lighter and USB connector.
GPS system with assistance system and remote software updating (optional).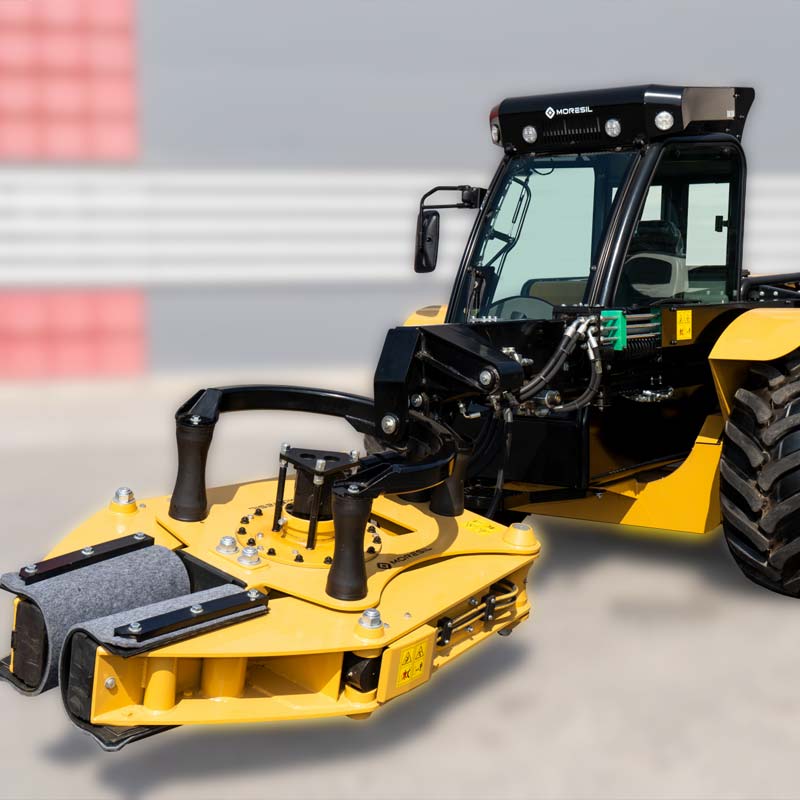 Vibration
There are several vibration programmes available that adapt to the different types of olive groves. It is also possible to create custom vibration configurations.
It is possible to adapt the three types of clamps currently available, as well as all their studs and flaps accessories.
It features a vibration/tree counter that makes it possible to track the harvest.
Power Unit
Modern DEUTZ 120 HP engine, with electronic control system. It only uses the power required in each operation, reducing standard consumption by approx. more than 30% compared to standard use.
Hydraulic pumps Danfoss with variable

flow, which can be controlled from the different machine programs.

Robust Poclain wheel motors, which are capable of functioning even in the most adverse situations.
Several movement programmes, making it possible to choose the most suitable for each type of terrain or driver, for example, to minimise the breakage of bales.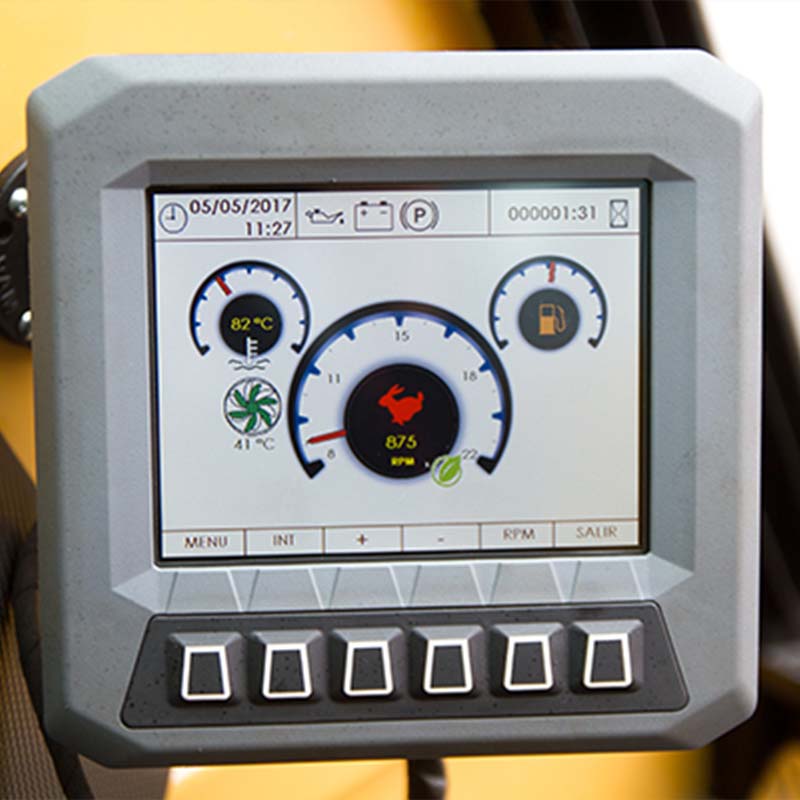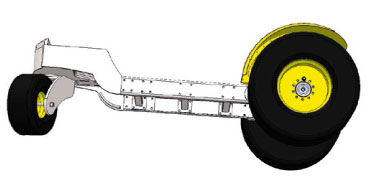 Design
Optimised weight distribution. Low centre of gravity to work and move on sloping terrain.
Steel-welded structure, with high elastic limit steels.
Robust hydraulic and electronic equipment from leading brands.
Lenght (m)
6,9
Height (m)
2,1 / 2,29 (Air Conditioning)
Width (m)
2,47
Distance between axes
2,78
Weight (kg)
5040
Telescopic (m)
1,3
Elevation (m)
2,2
Turn (º)
35
Engine
Deutz 4 cylinders turbo – 3600 cc – 120CV -2300 rpm
Fuel tank (I)
120
Hydraulic tank (I)
140
Transmission
Hydrostatic – 480 bar – 2 independent matrix wheels with negative brake
Maximun speed (km/h)
17
Movement modes
Super Slow – Slow – Fast – Fast ECO
On-board Computer

Power unit control
Vibration control functions
Custom vibration programmes
Tree counter and stopwatch
For olive harvesting work, having a olive tree shaker machine (mono boom) is a great option, as it will allow you to move with agility through the terrain.
Moresil offers olive tree shaker machines that adapt to your needs.
Tree shaker machine for olive orchards
They work to advance with technology hand in hand with our customers, designing tree shaker machine for olive orchards models that adapt to the terrain and the specific characteristics they present, in this way, the farmer can enjoy a good mono boom to move around his land.
When it comes to field work, an olive harvest machine can be of great help, because with its electronic vibration management and thanks to its power, with a olive harvest machine you can go through the land better to follow the olive trees in detail in less time than walking, optimizing by far the yield of the harvest by hand.
Moresil offers its customers olive harvesting, which combine power and maneuverability to work in olive harvesting, being resistant and safe to move through the olive groves quickly. A unique vehicle thanks to its versatility and tools that complete the use in the field.