Sunflower Harvester with Chains
G-4570 Model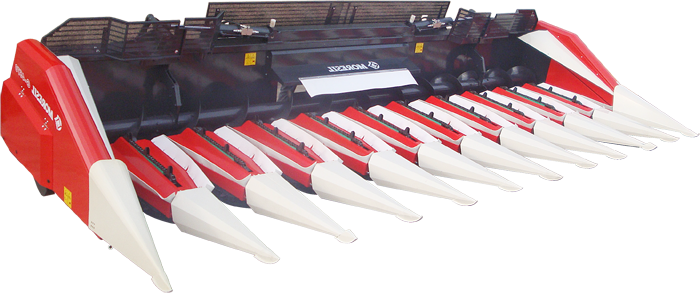 Thanks to its side chain and upper chain systems (optional), it ensures uniform feeding under any circumstances.
The perfect header for irrigation farming due to its high harvesting rate.
It can be manufactured in various sizes to suit the needs of our clients.
With a hydraulic regulation system, the stubble is cut at a low height even if the cane is long.
Sunflower Harvester with Chains
G-4570 Model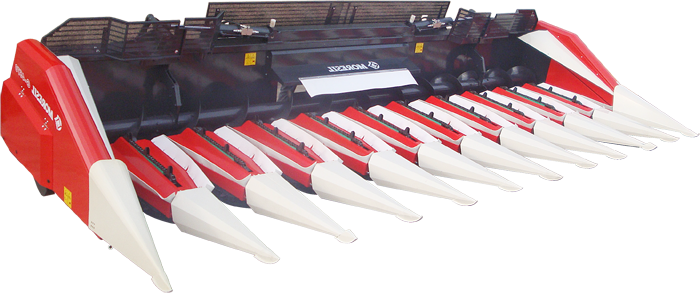 Ensure your harvest success
The header is designed to guarantee the greatest performance under all circumstances, from adverse conditions to high output.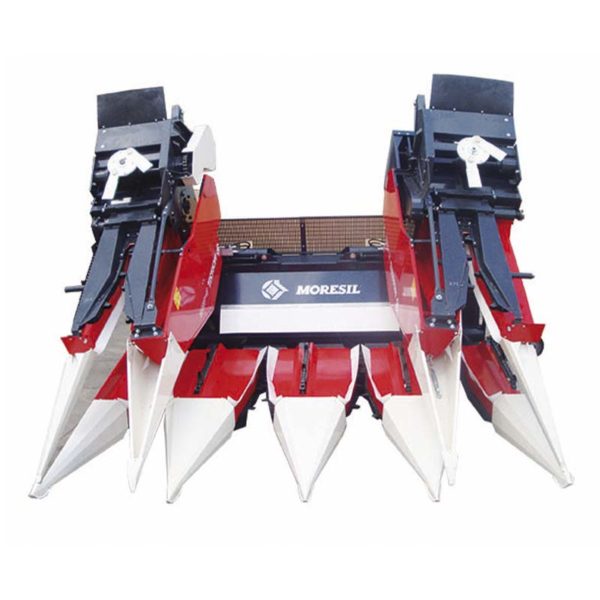 The Sunflower Harvester with chains GC-4570
The Moresil sunflower harvesters (4 to 12 rows) leave the factory adapted to the make and model of the combine harvester requested. In each case they are equipped with the elements necessary to achieve optimum performance. The width between rows varies between 500 m/m and 800 m/m.
Row spacing: Available in multiple measures, but we can make at any distance on request.
Adjusting system to the combine interchangeable and adjustable to change the tilt of work, and adaptable to any combine.
Color of the side of the header same as the color of the combine.
Box of blades: It has a completely rectilinear movement and it is very quiet, because their components are always in rotation. This system can cut at high speed.
Speed variator (optional): This header can be fitted with a speed variator for the feeding chains in order to adjust the speed to the speed of the combine.
Cutting system by knife sections on the back of the feeding set and close to the conveyor screw for constant uniform feed with no losses of grain.
Feeding chains located at the top of the tray (optional), introduce the plants that are lying down on the ground, uniformly, avoiding the accumulation of bush. Side chains help to feed the header.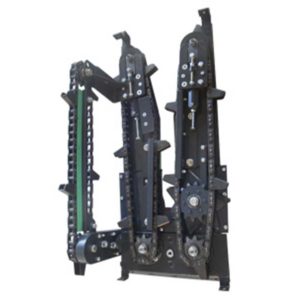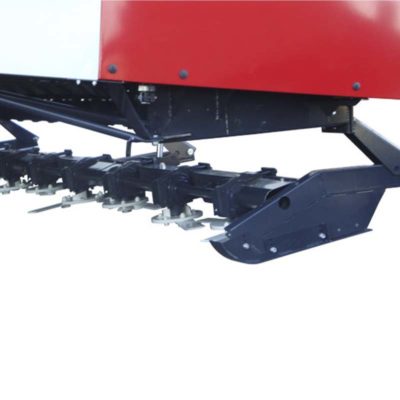 Height-adjustable hydraulic chopper, which allows to cut a short stubble although the stems are long.
Gears of chopper are designed specifically for this work with reinforced bushings to achieve total reliability.
Reverse rotation system to achieve greater effectiveness and distribution of chopped straw.
Transmission bar removable in sections for easy maintenance.
Chopper-blades are reversible and highly durable.
After the work, remains a perfect and uniform stubble.
Folding chassis (optional): To make easier the transport or get through narrow ways.
It can also be fitted with chopper hydraulically adjustable in height and folding as the header. Quick and easy folding.
| Nº of Rows | 6 | 7 | 8 | 9 | 10 |
| --- | --- | --- | --- | --- | --- |
| Total length (mm) | 4100 | 4700 | 5300 | 5900 | 6500 |
| Weight (kg) | 1250 | 1450 | 1450 | 1850 | 2050 |